Get down to Flinders Bar on Thursday 14th July to witness the launch of MYLEE GRACE'S EP 'BABY TALK'. Special guests on the night will be good friends DUSTY DUETS (that's Killer from Goons of Doom and his lady, Angelique). And opening the night will be POPULAR MASS (featuring Northern Beaches poet, artist and legend Marcy and Killer from Dusty Duets).
There will also be some special guests appearances on the night. You'll have to be there to see.
Free entry. From 7pm – 10pm.
Facebook event: https://www.facebook.com/event.php?eid=198237910228259
www.facebook.com/myleegrace
---
So the RED CROSS APPEAL is on this weekend. Make sure you head down early to check out some cool art from 6pm.
Featuring talented artists;
OZZIE WRIGHT
STEVE SMITH
PAUL Mc NEIL
TRIPP BIANCO (aged 11)
MATT GRAHAM
NICHOLAS HERNANDEZ
WILL BRADEN
RAYMOND T LALOTOA
JUSTIN CRAWFORD
ARTIST UNION
and more…
Don't forget there'll be a Limited Edition Music Compilation available on the night too, featuring music by most of the bands playing on the night and more including; GOONS OF DOOM, THE BUNGALOWS, MYLEE GRACE, ROYAL CHANT, THE GO ROLL YOUR BONES, DEAD GANG, LIME CORDIALE, CUSH DRIVE, DUSTY DUETS, STICKY FINGERS and FAIT ACCOMPLI.
This event has been put together to raise money for the RED CROSS. So we'll be donating all funds to RED CROSS AUSTRALIA, JAPAN and NEW ZEALAND. So make sure you spread the word to your friends and come down and help us help others while viewing art and enjoying some great music by some of Sydney's best underground bands.
Facebook Event Link and Information https://www.facebook.com/event.php?eid=177436608972970
It's happening on Easter / Anzac Saturday from 6pm till late at The Annandale Hotel. Lets Party!
X MSR
---
---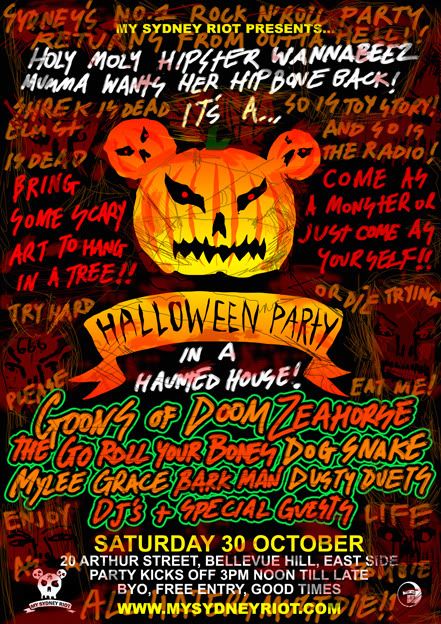 MY SYDNEY RIOT are having a HALLOWEEN PARTY. We were sitting around with some of our buddies and we decided to put on a Party. Why? We're bad ass at puttin on Parties and we wanted to invite some of our favourite bands around to make us deaf. To be honest we just want to throw a party and have a good time with our friends.
So if you're free pop over for a good time. Come as a Monster or come as yourself. And bring some art to hang up on a tree if you're an arty type of person.
Party starts from 3pm noon and will go into the late night.
Some of this cities most amazing live bands will be playing…
GOONS OF DOOM
ZEAHORSE
THE GO ROLL YOUR BONES
DOG SNAKE
MYLEE GRACE
BARK MAN
DUSTY DUETS
DJ'S, special guests and good times for all.
Saturday 30th October
20 Arthur St
Bellevue Hill
This is the first party we've put on in ages, so it's gonna be a special one.
Thank you and see you there.
Facebook Invite link
http://www.facebook.com/event.php?eid=161273307226191
XXX
---